Míó
Guide: Volcanoes of Iceland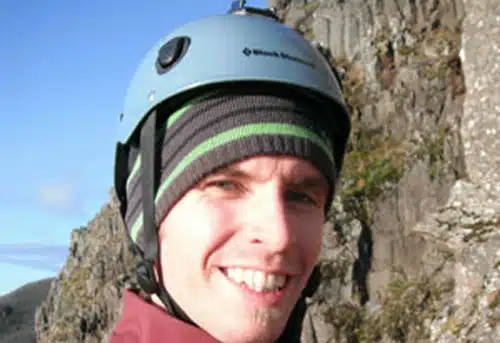 Hörôur, known simply as "Míó" is an outdoor enthusiast, mountain guide and outdoor education instructor from the capital of the North, Akureyri. From a young age Míó has been drawn to the great outdoors, primarily to mountainous terrain and for the past years the vertical world has been a dominant force in Míó's life. He is always on the hunt for the next awe inspiring line, be it on skis or tied in to the sharp end of the climber's rope.
Míó started his guiding career in 2007 and has extensive guiding experience in Southern Iceland as well as in Southern Greenland. His goal is always to have another fantastic day in the mountains, and returning home safely with an inspiring story to tell.
Significant Ascents
East Buttress on El-Capitan – Yosemite National park, USA
The Monkey Face – Smith Rock Oregon, USA
Crimson Chrysalis – Cloud Tower Red rocks Nevada, USA
Eisenhower Tower – Rocky mountains, Alberta, Canada
Mt. Athabasca – Rocky mountains, .phper National park, Alberta, Canada
A2 – Rocky mountains, .phper National park, Alberta, Canada
Mt. Hvannadalshnúkur – Öræfjajökull, Iceland
Mt. Eyjafjallajökull – Iceland
Mt. Hrútsfjallstindar – Öræfjajökull, Iceland.
Þverártindsegg – Suôursveit, Iceland.
Lóndrangar – Snæfellsnes, Iceland
Certifications
Personal Achievements
Founding member of the "Association of Icelandic mountain guides – AIMG".
Iceland's guide for "Alpine Ascents International".
First Instructor for Mountain program at FAS.
Founding member of CAA's AST level 1 program in Iceland
Senior Guide at Arctic Adventures
First generation guide for Glacier Guides – Skaftafell national park.
First generation guide for Greenland tours.
Founder of CAA's AST level 1 program in Iceland.
Education and Certification
Adventure Guide Diploma – Thompson Rivers University, BC Canada 2012
Ski Touring 1 – 3 TRU
Mountaineering 1 – 3 TRU
Rock Climbing 1 – 3 TRU
Wilderness travel – TRU
Rope Rescue Team Member – JIBC (SAR300)
Rope Rescue Team Leader – JIBC (SAR311)
Professional CAA level 1 – Avalanche Operations Level 1
Rescue 3 International, Unit 1 SRT Swift-water Rescue Technician.
Instructional skills Workshop certification – TRU
Wilderness First Responder certified – Wilderness Medical Associates
Rafting Courses – Icelandic Maritime Administration, class 1-3
Ski instructor level 1 – CSIA
Class 4 (bus) driver's license
The trip was a fantastic experience! We were amazed at the broad range of locations and activities we got to experience in a short time span. Our guide was expert, kind and funny! Overall, we were thrilled with our visit to Iceland!