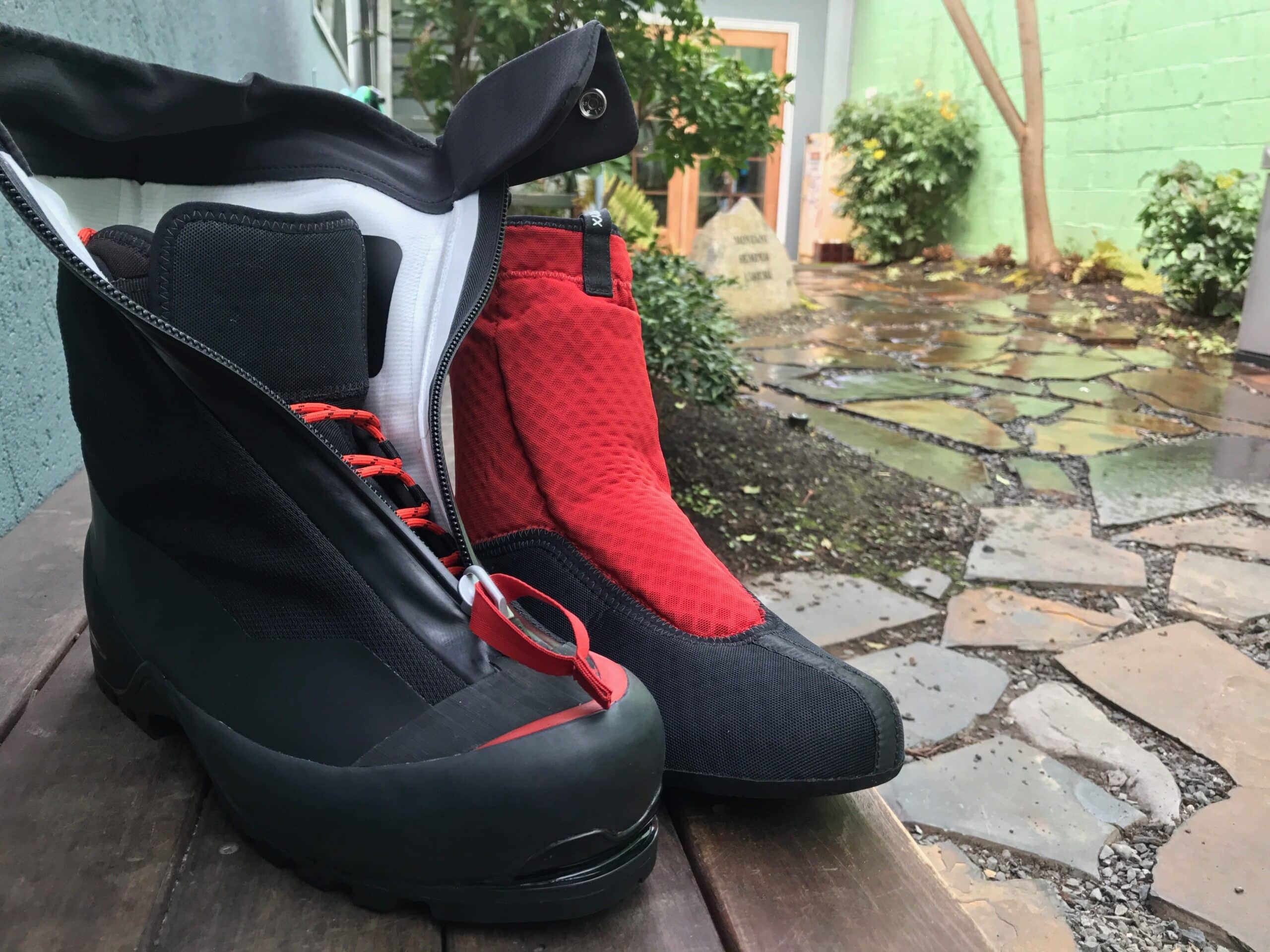 Periodically we will talk about a piece of equipment that we feel is a crucial addition to any mountaineering kit. These are pieces which have proven themselves invaluable in the field based on real use, often honed over our years of experience living and working in the alpine environment.
Traditionally, climbers have have had to make a difficult compromise when choosing footwear for extended climbing trips at lower altitudes. To climb in hot, heavy double boots, or in light single boots that will "get wet & stay wet" leading to serious discomfort?

Even at low altitude, multiple days' time spent in the snow will wet-out even the best waterproofing of single mountaineering boots like the La Sportiva Nepal Evo. If not from external moisture, then even foot sweat can often leave your boot wet at the end of a long day's effort. Regardless, single boots are notoriously impossible to dry out in the field, meaning that by the third or fourth morning of a longer climb, cold and soggy boots will become a reality. Due to the discomfort & even danger of spending too many days in soggy boots, many climbers turn to a double mountaineering boot.
Designed for higher altitudes, double boots consist of a rigid, durable outer shell and a removable, soft insulated liner. This construction is significantly warmer than a one-piece single boot, and allows climbers to remove & dry the boot liners at night (boot liners are easy to comfortably dry out inside your sleeping bag at night). However, on lower altitude trips, the increased weight, bulk, and warmth of a double boot is often undesirable and unnecessary.

For decades climbers have struggled with these issues, dreaming of a low-altitude double boot specifically designed to be lightweight, low profile, and durable enough for the rigors of low-altitude mountaineering.
Enter the Arc'teryx Axrux AR– the first boot of its kind that we can truly call a "low-altitude double boot". Designed for use to ~5000m, and built with not one but two layers of waterproof membrane (one in the outer boot, one in the liner), the Acrux is designed to keep you warm and dry in even the wettest mountain conditions. The lightweight Gore-Tex liner booties can be easily dried out in a sleeping bag at night, and for truly heinous conditions two separate sets of ultralight liners wouldn't weigh down your pack.
We think this boot will a perfect fit for any of our Cascades mountaineering courses, and in many conditions this may be the ideal boot for use on Mt. Rainier.