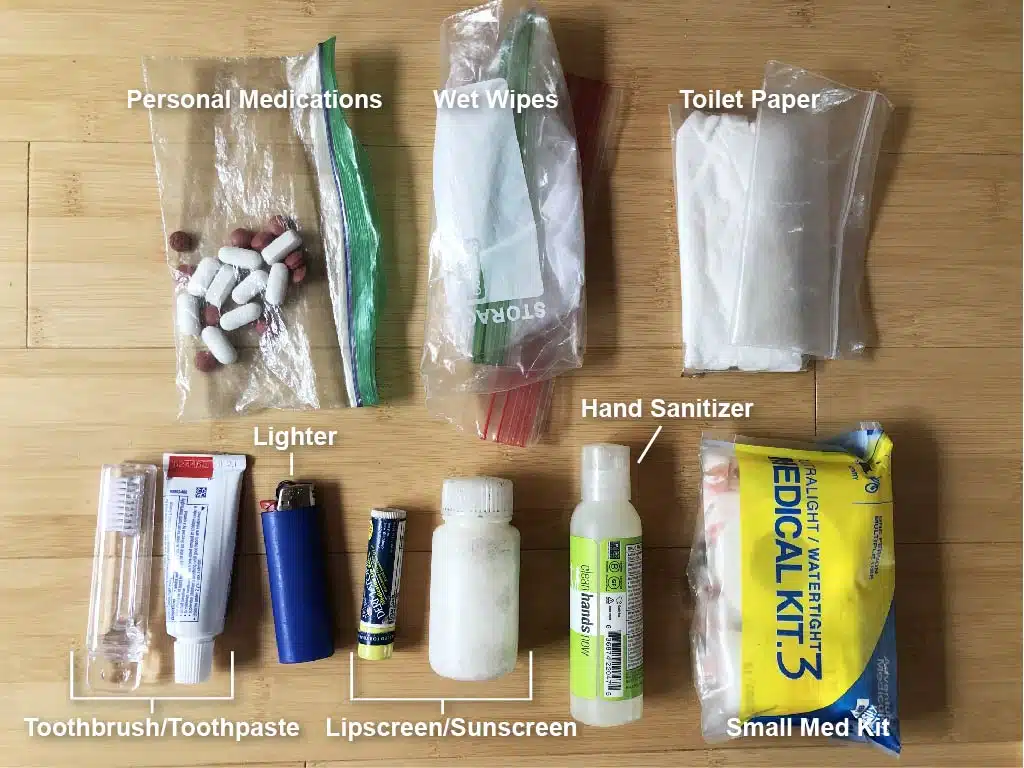 You've probably seen "toiletry kit" on the packing list for your upcoming trip, but maybe you aren't sure exactly what it should contain. When mountaineering, it's a balance between weight and function, because the less weight you carry, the easier it will be to get to camp, and to the summit. So what toiletries should you pack in order to maximize comfort and minimize bulk and weight?
A sturdy Ziploc bag or a lightweight toiletry carrier is ideal for containing the items you'll need. When packing this, a good rule of thumb is to take nothing but the essentials. What might seem essential in everyday life might not be essential on the mountain. So here's some specifics on what you should (and shouldn't) pack.
DO PACK
-Toothbrush and toothpaste: Dental hygiene is always important. Use a compact travel toothbrush (or cut your toothbrush in half) and a travel sized toothpaste.
-Personal medications: Bring any medications that you need. Add a small medical kit with some ibuprofen, moleskin, and bandaids so you can take care of any small aches and pains.
-Hand Sanitizer: You should be sanitizing your hands before every meal and after every bathroom trip.
-Wet wipes: Wet wipes will be the closest thing you have to a shower on your trip, and they serve great as replacement for toilet paper. Bring one for each day.
-Toilet Paper: WAG (Waste Alleviation and Gelling) bags, which you will use to carry out your toilet waste, contain toilet paper, but it's a minuscule amount. Bring just enough toilet paper for the length of your trip and roll it up in a small ziploc.
-Sunscreen: Make sure you apply sunscreen (30+ SPF) frequently to the places that see the sun. Filling a small, reusable container with enough sunscreen for the trip, or buying a travel-sized one, keeps it small and light.
-Lipscreen: Keep an extra lipscreen in your toiletries kit, and one in an accessible pocket while climbing. You won't want to lose it! It should have an SPF, otherwise your lips could balloon with blisters.
-Prescription eyewear: Bring your contacts, solution and glasses. If you normally wear contacts, bring glasses as a backup, and make sure you sleep with your contacts next to your body so they don't freeze. If you always wear glasses, make sure you have prescription glacier glasses.
-Feminine hygiene: If you expect to have your period on the trip, make sure to bring supplies. Also know that sometimes the body changes cycles under stress, so bring a few supplies even if you don't expect it. Diva cups work great because it eliminates having to carry out any trash. If you do use tampons or pads, make sure you also bring an extra ziplock to carry out the waste.
–Pee bottle (and funnel): This is a key component of personal comfort and hygiene on a mountaineering trip (so you don't have to exit the tent during a storm). This can be packed separately from other toiletries.
-Lighter*: It's always nice to have a lighter handy. This is essential if you're on a course where you'll be cooking your own food.
-Extra batteries*: Your toiletry kit can be a convenient place to keep extra headlamp batteries. Just make sure you don't leave them behind on summit day.
*Although a lighter and batteries are not toiletries, the toiletries bag is a convenient storage place for these small items.
OPTIONAL
-Hairbrush: People with long hair will find it convenient to have a travel brush or comb for detangling. Generally for a week-long trip or shorter, securing long hair in a braid eliminates the need for a brush.
-Hairtie: For long hair, it'a nice to have an extra hairtie or two.
-Eyedrops: Mountain air can get dry, so if you're prone to dry eyes it's helpful to have drops. Plus, they help you feel extra awake on early summit days. (Just make sure to sleep with the bottle, or it could freeze.)
-Nail clippers: For really long trips, it can be convenient to have clippers or a small file to keep your nails from getting too long.
-Compact mirror: A mirror can come in handy for contact wearers, and can double as an SOS beacon.
DO NOT PACK
-Deodorant: Most deodorants are made to be washed off everyday, and are toxic if not. Also, cold air is drier, so it doesn't carry smells very efficiently. Plus, you'll have enough layers on to hide your scent, and you'll probably stink even if you were to put on deodorant. Skip it!
-Shampoo and Conditioner: You will not be washing your hair on the mountain. Braid it and forget about it.
-Mouthwash: We want to have fresh breath, but this just adds unnecessary weight.
-Makeup: Think of your sunscreen as your makeup for these excursions!
-Hairspray: Just making sure you're paying attention. And if you were considering bringing it, please don't.
-Razor: Most parts of your body that you might normally shave will be covered up